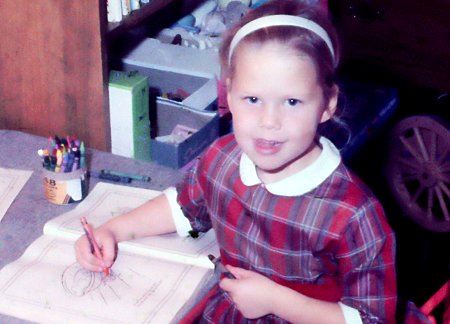 I've been working with abstract and surreal art for almost ten years, focusing primarily on fractals. While I love creating abstracts, and they have fulfilled my drive to express the inexpressible, there was a part of my artistic soul that was aching to embrace my other passions.
I waffled about what I wanted to concentrate on. My alter ego is fully ensconced in the Middle Ages, from whence stemmed a love of vintage botanical illustrations, architecture, damask, and geometric designs.
A child of the sixties, I've also always been drawn to colorful patterns. And then one day as I was thinking about the years in the 1960s that I lived in Monterey, California, I had a distinct memory of a hot pink and lime green plaid skirt (worn with lime green fishnet stockings and lime green suede shoes.)
I thought of the plaid couch in my parents' den when I was growing up - and the plaid jumper my daughter wore, the plaid flannel shirts my son and husband live in; the plaid sofa that sits in my living room now, forty years later.
I grew up surrounded by plaid. Odds are, you did too.
And it doesn't really matter when you were born, because plaid has been around as long as all of us who now walk this Earth.
If you weren't wearing it, you were probably sitting on it or carrying it.
A recent unplanned plaid observation at my local grocery store resulted in six sightings in fifteen minutes. I saw: Three pair of shorts, a blouse, a purse, a pair of sneakers, and a hat adorning people of all colors, ranging in age from toddler to grandparent.
I hit the internet for a planned plaid observation session and was pleased with what I found. From taffeta ballroom gowns in the Victorian era to full-skirted sundresses in the 30s, the cover of Vogue in the 50s to madras in the 60s; the prairie look of the 70s to grunge in the 90s to today's Hipsters – traditional plaid just keeps on trending.
And so I started creating plaids - such fun! - and after great inner debate and a couple of major missteps, I created Plaidwerx. I opened a Plaidwerx shop on Zazzle in July 2013, and began filling the shop with patterns of my own design, some traditional Scottish tartans (because I love them) and some reconstructed vintage plaids.
I was struck by the thought that plaid is fractals for the masses.
Like fractals, I find the possible patterns and color combinations endless. Unlike fractals – which I was always trying to whip into shape, so much so that I had to remind myself to abandon reason and embrace the chaos – I find that the symmetry and straight lines of plaids fulfill a need to have control over my creativity.
It werx well for me.
Susan Wallace
August, 2013